Introducing the Industry's First Integrated Storage and Network Test Solution for the Converged Cloud Data Center that Supports 4/8/16 G Fibre Channel and 10 G Ethernet in One Portable Platform
Hitachi Data Systems Selects the JDSU Xgig® 1000 for its end-to-end
data center quality assurance solution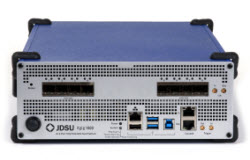 JDSU, a leader in data center and storage-networking test solutions, now offers the industry's most comprehensive solution for pinpointing and resolving problems across multiple protocols in converged data centers in its Xgig 1000 16 G.
Cloud-delivered services are critical to today's global business operations so cloud service providers must cost-effectively operate scalable, efficient converged data centers that meet their customers' needs. To do this, providers need tools that cover new, fast-growing data center technologies such as Ethernet, iSCSI, Fibre Channel, and Fibre Channel over Ethernet.
The JDSU Xgig 1000 16 G meets this challenge with:
Automated testing for faster SAN and network attached storage (NAS) installation and deployment

Optimized diagnostic efficiency in one compact, portable, stand-alone platform that integrates 10 GE and 4, 8, 16 G FC

Reduced downtime and lower SLA-management with an industry-proven, reliable, analysis and troubleshooting solution

Improved storage and network-services management with comprehensive IO-performance statistics
Hitachi Data Systems provides information technologies, services, and solutions that help companies improve IT costs and agility, and innovate with information to make a difference in the world. Hitachi Data Systems has selected the Xgig 1000 to assure end-to-end quality when deploying solutions.
"The dynamic traffic patterns, loads, and protocols driven by data center virtualization and LAN/SAN convergence puts higher performance demands on the underlying network infrastructure tasked with delivering mission-critical business applications," said Steve Lockrey, Director APAC Global Support Centre at Hitachi Data Systems. "The comprehensive protocol test capabilities of the portable JDSU Xgig 1000 solution ensure our field engineers can proactively validate ongoing performance and quickly isolate and resolve issues across converged environments to optimize SLAs."